Dye makes some of the most high performance paintball products. From their high-end tournament level electronic markers to the super cool looking i4 and i5 Precision paintball masks, Dye is the product to buy if you want comfort, performance and snazzy designs.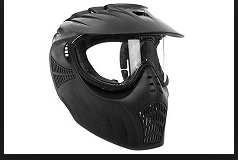 Though it comes at a price, you have to admit that their products are quite worth it.
Today, we will take a quick look at the Dye Precision i5. First, yes, the price is almost $200. Though that might be quite alarming if you are on a budget, think of the value it offers. The lens is the best anti-fog lens you will ever get your hands on in a paintball shop. The lens comes in clear and many, many tinted finishes, giving you squint free vision that is tailor made to your preferences.
The lens is anti-fog, anti-scratch, anti-glare and also with top of the notch UV protection. Ear protection is excellent on this mask. You can take close range shots to your ear and not feel anything but just muted bump like hits on the side of your head. The GSR strap that is used to adjust this mask on your head is super comfy. It is a wide and soft strap that just requires dial turning to adjust. There are no loops and messy handiwork to deal with anymore, just to loosen or tighten your mask.
What users love about this mask is that the lens can be changed out in less than 10 seconds. No other mask can let you do that in as little time. It simply isn't possible. It is also one of the few masks that has a GoPro mount built into it. If you are the type that likes to record your paintball pursuits, this is the mask to buy. If not for all the features mentioned here, buy it just because it is one of the cool paintball masks out there.