Although the stretching of the ears is a procedure that man has done since ancient times, especially for religious and traditional reasons; Currently this process of body modification responds to a form of artistic expression through the body.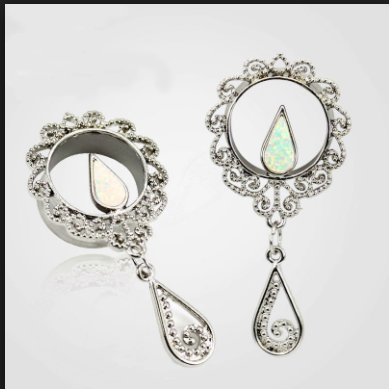 If you are one of those who is willing to perform this type of body art and has already gone through the first step; the perforation, then the next step is to get a kit of ear gauges and of course, the accessories that allow you to wear the new look. For this, the So Scene store offers you the best products.
You can find the ear stretching kits in different materials; Acrylic, titanium and stainless steel, in different colors. The range of prices ranges from $ 9 for individual cones to $ 30 for the kit with all the pieces and in the appropriate sizes for you to safely perform the stretching process.
It is important to know the size indicators of the ear gauges to be able to choose the appropriate ones for each case. This type of pieces is measured by calibers and range from 20 to 00. Larger garments are measured in inches or millimeters.
You can choose are varied of ear gauges; tunnels, single or double flare plugs, simple and flared plugs. The materials that are offered in So Scene are the well-known stainless steel, acrylic, and silicone, but also glass and organics such as wood, jade stones, druzy, purple fluorite, rainbow and green or abalone and opal.
Some of the most sold items are:
• Earplugs with lotus flower design in stainless steel and abalone bottom. They are available from caliber 0 and up to 20 millimeters. The price: 20 dollars.
• Earplugs with life tree design in stainless steel, with abalone bottom. Available from caliber 0 and up to 20 millimeters. The price: 20 dollars.
All purchases in So Scene have free shipping.